Hook and Eyes
On to Adding Elastic to Skirts
There are two main types of hooks that are used in bellydance costumes. The first is the small hook and eye made of bent wire typically found on bras. The second is more accurately called a hook and bar, and it's most often used on pants. In the world of bellydance costumes, hook and bars are almost universally used for the closures of bra straps and belts. The smaller hook and eyes are sometimes used to attach smaller accessories, like chiffon drapes onto an upper arm band. Both types of hooks come in a variety of colors, and can be easily found coated in white or black polymer finishes.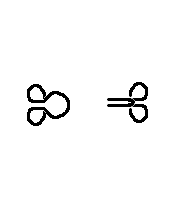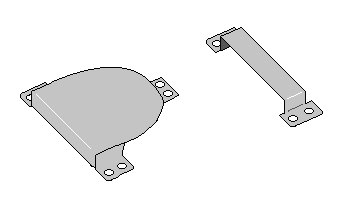 The shape of these closures will vary between manufacturers, but these illustrate the general shape of hook and eyes and hook and bars. As you can see, they each have holes or loops you can use to sew them onto fabric. Be sure to use button-and-craft thread, and to double your thread, when you attach these to your costume. Also, go fully through the costume to sew these on. Sometimes costume designers only lightly stitch these onto the lining, but over time that can literally pull your costume apart.
Knowing how to attach them is only half the battle though. The next question is - where to attach them. I like to use a little trick to make life easier on myself. When trying on a new (or new to me) costume, I use my hands to hold the neck straps in place where I think they should be to hold up the girls, and then I use a straight pin to mark where the end of the right strap (assuming the right strap ends up on top) lays on the left strap. I stick the pin into the left strap, parallel to the end of the right strap. Now I can take the bra off and see where the hook and bar should go. In the following illustrations, the pink is the lining (or inside) of the straps, and the burgundy is the outside of the straps.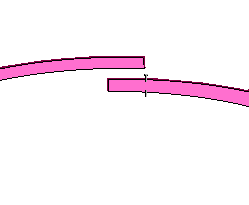 I sew a hook to the very end of the right strap on the lining side (hook faces your skin), and I sew the bar right next to the straight pin on the top of the left strap. This trick can be used for any location where you need to put hook and bars - the bra band or the side closure of a belt.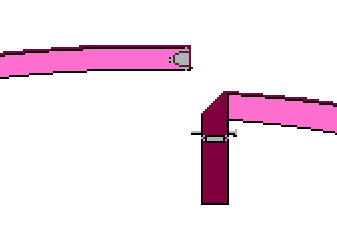 Here's the Wikipedia article on hook and eyes, for geeks like me who dig that sort of thing.
Back to Costumes