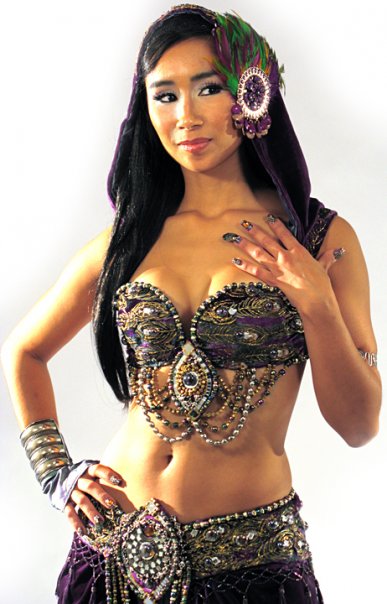 Anasma
Anasma is Performance Arts Dancer, Teacher, and Choreographer currently based in New York City and Paris. Drawing from her crossed-training in Bellydance and other forms (Hip Hop, Acting, Miming, Gymnastics, Yoga, Salsa, Wushu, Flamenco, Modern Jazz, Contemporary Simonson technique, African...), Anasma focuses on making Dance meaningful and touching through storytelling , character development and movement. To her, dance is an expression of the self and of the soul that enables each dancer, may they be new to it or professional, to share their deepest emotions and to be in the Now.
Half Tunisian and Vietnamese brought up in Paris, France, Anasma was naturally drawn to mixing art forms to express who she is through performance and teaching. Thus her World Dance fusions (Hip Hop Bellydance Liquid fusion, Wushu bellydance, Salsa bellydance…) are a mix between the ethnic and the urban components of her personal background and her present life.
Since 1997, Anasma has performed and taught in dance festivals, prestigious theaters, TV shows, concerts, and toured many times in Europe, North America and Asia. From 2006 to 2009, Anasma worked with the respected company Bellyqueen as one of their principal dancers. Anasma is featured in the following performance DVDs: "Bellydance Experience", "Bellydance NYC: the Ultimate Fusion Experience", "Fantasy Bellydance"and "Fantasy Bellydance: Tarot" as well as in two instructional DVDs: "Bellydance Hip Hop Liquid Fusion"and "Wave Explosion" with Future. She sings alongside Pete List in the album "Songs for Kassar". She is the co-director of the New York Theatrical Bellydance Conference with Ranya Renee and has co-produced the interactive dance show "Ready, steady , dance".